Driveway Gates
Back To Our Services
Well-equipped 24/7 gate experts for full services!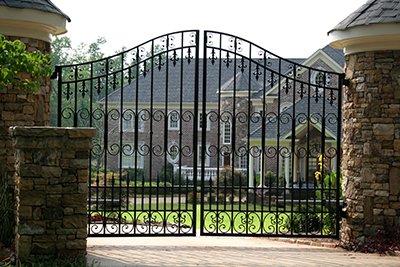 Your search for an excellent gate company that can do it all is over. Our gate business in Santee will fulfill all your gate and fence needs. Our company offers services such as the repair of gates to supplying and installing all types of gate openers / motors. Our Gate business in Santee CA supports welding services besides replacing or discarding all parts. You can reach us anytime for questions, concerns or emergencies. We are extremely glad to be a company available 24/7. In case of any driveway gate emergencies don't hesitate to call us. We will come to your location as soon as we are able to do and have your issues settled in no time at all.
There are different types of gates, such as parking garage gates, overhead gates, and roll up gates, among others. Each of these types have their own pros and cons and depending on your needs and preference, therefore choose one of these or any other type to be installed in your home or business establishment. Trust our notable company to deliver a job well done every single time by professional technicians. Our costs are very reasonable and you will not regret paying for every cent. Be the envy of your neighbors by investing in a well-functioning and aesthetically beautiful gate.
Our business in Santee also provides services on driveway gate opener. It's always better to have driveway gate that could be easily handled without stepping out of vehicle. Visit us if you wish to have driveway gate opener installed. Or if you'd like to stop in and see all the brands we offer. Our driveway business carries only excellence gate opener. We want to serve our customers with the best and dependable openers. We want our customer to trust and rely on us. Just a to name a few types of driveway gate opener that the driveway gate company of Santee, CA offers are Elite, Doorking, GTO Pro, Eagle, FAAC, Ramset and All O Matic. We offer three different sorts of gates. There is single swing, sliding gate & Bi- Parting Pair. While picking a driveway gate opener do keep in mind about the type of gate you desire. Each of these brands of openers has different openers to decide from dependent on the kind of gate that you have.
After you have successfully installed the driveway gate opener with the assistance of our installation workers you can further proceed to install a driveway gate remote. You can operate the gate openers without stepping out of vehicle, through this remote. While installing openers for you our contractors will describe some tips on troubleshooting. The driveway gate company in Santee can also repair those driveway openers which have been already installed by you previously. We understand that even the best products last longer if they are maintained over the years. Contact us for any kind of trouble regarding the driveway gate opener we'll be right your place to aid in troubleshooting and repair.
Our driveway gate business in Santee care for your gates wants. Our services not only are limited to driveway gate opener but also help you for any parts of your gates repairing. Yet, we also help you in fitting the gates of your option which you would like to have on aisle of driveway gates. We may even fit intercom/ telephone methods on your drive way-gates. We're the renowned driveway gate company in Santee who everyone seeks for help with their driveway gates servicing. Our driveway gates business works very hard to offer the best services so contact us right now and see the offers or services that we can present for your driveway gates.